Commercial Photography helped me take the best photo of my life. :-)
As a person who relies on photography as my full time gig, living in a small-ish town, I have the opportunity to shoot a lot of different things. We are the normal blended family. We have a kid in college, a mortgage, car payments, blah blah blah, and it's a continual rat race. I have shot babies, families and weddings for years. Did I ever in a million years think I would be donning a hard hat and shooting construction sites and alcohol based funny cars? Nope. Never. But I'll tell you what, getting out and meeting the supers on the job sites, getting to know the company and teaching them about photography, being creative in these construction sites (because they aren't really that different from abandonment, which i love to shoot), really pushes me and actually is a lot of fun. I am SUPER grateful that I lived next door to the owners of Imperial Construction, and very happy to see their name come up on my phone every time it does.
The first time they called, they wanted to collaborate on some art work for their beautiful new office building in town. They literally wanted Shad and I to go shoot their sites, and be as creative as possible, and then they blew them up huge and they are hanging in every single office, and hallway in their new building. Even though most people in their office don't know who created that art, I feel kinda like a celebrity when I walk down those halls. After that, I helped them get all of that artwork onto their new website. Inevitably, they call right when my stress levels about $$ are at their highest, or during my slowest people photography seasons, and I can breathe an audible sigh of relief seeing their name pop up on my phone. Having beautiful and most importantly CONSISTENT images on their website is a sure boost for them going to trade shows and bidding new jobs. It is so important to present the best you, with every single job you bid for. Whether you sell a tiny house as a realtor, a beautiful ranch as a DFW realtor, or you are showcasing that multi million dollar new build as a builder, or when you finish that amazing state of the art elementary school as a commercial builder. Consistent imagery in this world where information is in your hand in a nano second.... you must remember that imagery is what sells you and your company.
My contact at Imperial called me last week to go shoot 4 of their buildings in Abilene (a 2 hour drive each way, which makes for a very long day), so on Wednesday I packed up and headed out. Shot some of these buildings that they are finishing and headed back.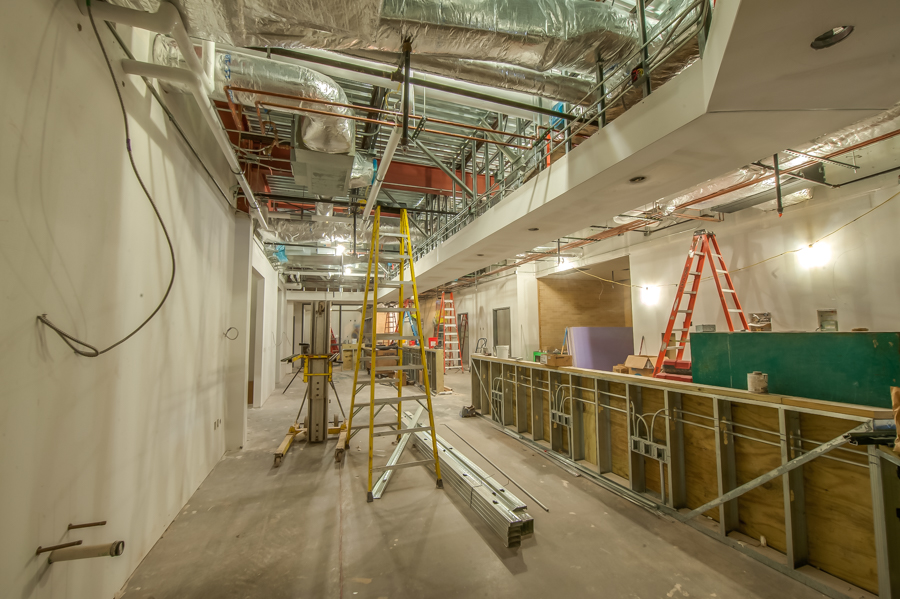 2016 has brought a huge amount of rain and pop up thunderstorms to Texas and all day I had been watching the forecast. Literally got done shooting as the first giant drops of rain started to fall on my sweetie's WRX (because if I'm driving 4 hours, I'm driving the hot rod.) As I was heading back I came across this storm on my right. Shad and I both love photography and storms, so naturally I snapped a pic with my iphone and texted it to him. He immediately responds, Hey! You have your BIG CAMERA. Pull over. Get a GOOD pic of that amazing storm! Do it! I'm so happy I have this man in my life, constantly pushing me to be more creative, more successful but mostly pushing me to find a way to keep up with him. I saw up ahead this rise in the freeway, so I stopped at the top. The storm was literally right on top of me. I quickly shot this shot (this is an HDR image comprised of 6 separate images.) At one point I screamed because semi trucks were barrelling past me on the left just feet away at 85mph and on my right, lightning and the loudest thunder I've ever heard were battling on my right. I know this image makes the storm look far away, but when you're shooting with a f2.8 14-24mm lens, everything looks far away. It was just feet away from me. Needless to say I grabbed the shot and ran back to my car to get myself back home. So glad I stopped.
I never imagined that shooting on construction sites for a commercial builder would lead me to take one of the most amazing pictures I've ever taken. Life is an adventure. Stop and smell the Freon sometimes.
If you'd like more information about how I can help your company present their best imagery, please give me a call for more information and my commercial HDR Photography consulting rates. I am happy to help all of North Texas, including Fort Worth, Dallas, Weatherford, Granbury, Springtown, Hudson Oaks, Willow Park, Aledo, Jacksboro and so many more areas.
Heather McClelland
817-771-1360